Now, our life is full of change with digital technology let's see in this Eyezy review how it affects us. Well, it makes our kids happier by spending time on modern devices. Spending countless hours on digital devices lead them to online dangers. No doubt, kids get into trouble while using digital devices or the internet. It includes cyberbullying, online predators, strangers, or sexual abuse.
Now dealing with all issues with eyeZy monitoring software is easy. It makes it possible to protect kids from online dangers. So, turn and read more about the app.
In this post, we'll discuss a detailed review of the eyeZy app, its features, cost, set-up method, and many more. But you have to pay intention.
Let's Get Deep to Eyezy Review
Now, start with eyeZy review. You have to read this information that helps to take a good decision for monitoring.
Eyezy Features Review
In this section, you'll know about the app feature list that encourages you to track your loved ones. Through this, you can remotely track your kids for their safety.
Screen Recorder
The screen recorder app helps you to watch the screen activities. It enables you to see the targeted screen live performances. With this, you can grab live screen activities. Users can see whatever happened on the targeted screen in real-time.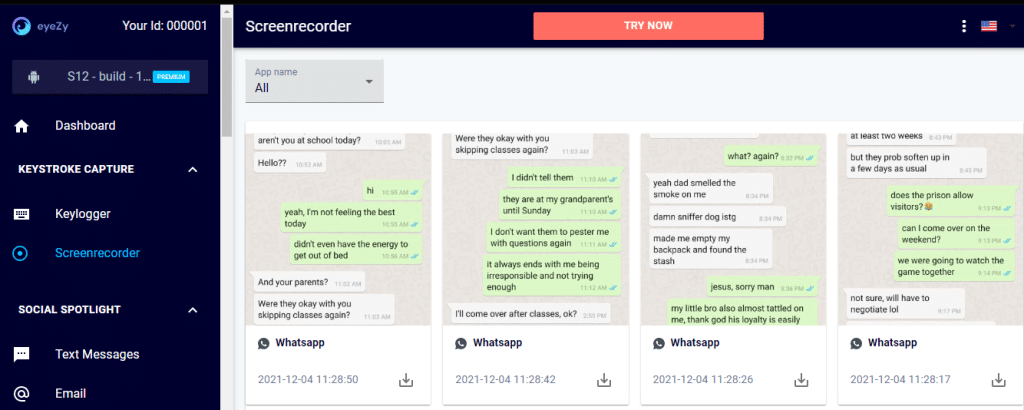 Key Logging
The key logger helps you to find every single typing on the targeted device. Users can see the typing list on social media, messages, browser,s or anywhere else. So, with this, you can track passwords, and emails on the targeted devices without them knowing.
Text Chat
EyeZy helps you to read all text conversations of your targeted device. it helps you to find whatever your loved one's chatting with their friends. So, you can easily read it for their safety. In case of a stranger's conversation- you can check or protect your children.
Social Media Monitoring
Social media monitoring feature spots you on the targeted device's social media accounts. It helps you to see every social media account on the targeted device. With this, you can check the activities of WhatsApp, Facebook, and Instagram. It helps you to see chats, calls, or share information through social platforms.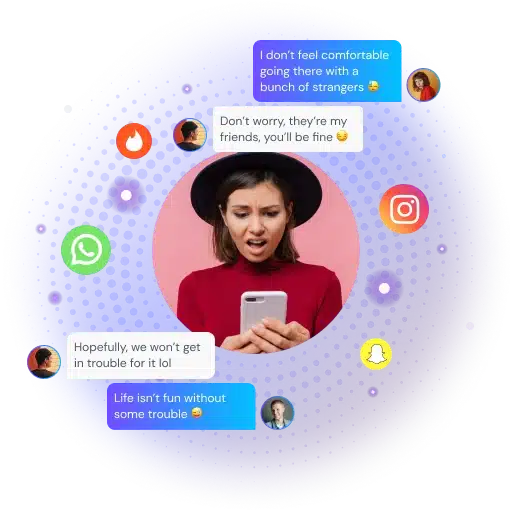 Web Magnifier
Web magnifier helps you to see the website history with complete details. Even it enables you to see the bookmark or incognitive history on the targeted device.
Magic Alert
This feature is made with the combination of two features Geofencing or keyword tracking. Geofencing is when your targeted person is entering or leaves a specific area, you'll get an alert notification.
Keyword tracking gives an alert notification when your targeted person is type a specific word that you have set off monitoring. You can add keywords that you want to be alert about the targeted person.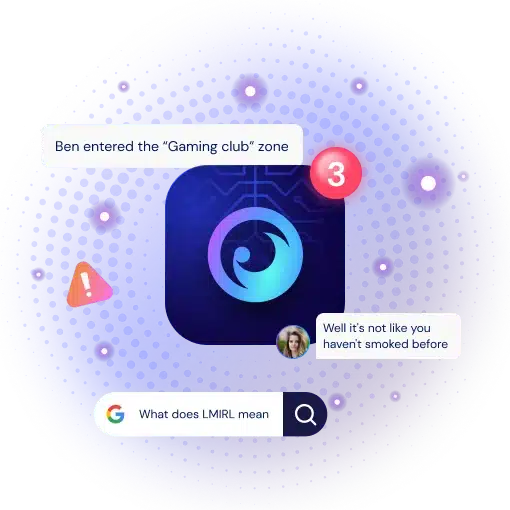 Phone Analyzer
Phone analyzer helps you to gather all phone data including phone contacts, call logs or many more. You can see you kid's phone call details with the incoming or outgoing calls. Or see their phone-saved contacts.
Email
Email is an old or professional communication platform that makes sense to monitor. So, it can help you to spy every Gmail account of your employees. Unfortunately, it didn't allow you to gather complete information. Or didn't helps you to see sent or received mails.
Pinpoint
This pinpoint feature enable you locate the accurate position of your targeted person. It helps you to find anyone's live location without them knowing. With this feature, you can easily find where your targeted person.
Block Website
Block website is basically a concern to protect your kids from adult or inappropriate content. To block a website you just have to put a URL that you want to block. Through this, you can add many web URL's. With this procedure, you can protect your loved ones from unwanted content. It takes 15 minutes to block websites.
Block Apps
Besides the website blocker, eyeZy allows you to block the unwanted applications on the targeted device. If you want, your kids didn't approach inappropriate apps. You can simply click on the block button. Once you block any app, your targeted person couldn't approach that app.
Plan Breaker
Plan breaker feature is in need of time. If your kids planning to go to a party or club without permission. They mark on the calendar; you can view their plans or break for their safety concerns.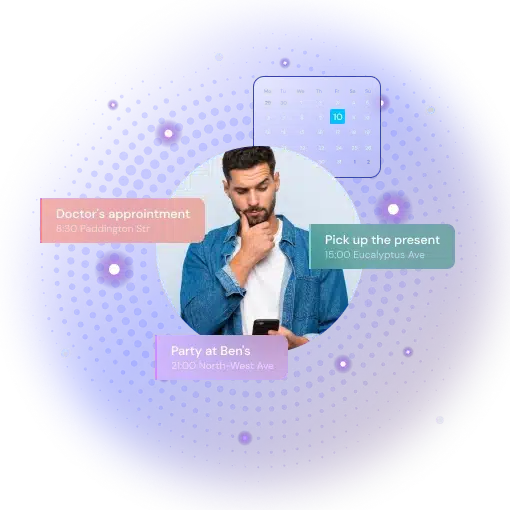 Which Devices Work With Eyezy?
Now you are concerned about your targeted device being able for monitoring. Is your targeted device work with eyeZy or not? Well, don't worry about it. We'll discuss in detail the device compatibility.
Yeezy tracks android or iPhone, android without root option, or iPhone without jailbreak. So, android phones are running on 4.0 or above or iOS devices running on 7.0 or above versions. Now you are able to track android or iPhones with no delay.
How Much Does Eyezy Cost?
You must find out about the price plans of eyeZy app. eyeZy offers affordable price packages that help you to buy. It allows you to have monthly, quarterly or yearly subscription plans.
EyeZy will charge $ 47.99 per month. If you go for a quarterly plan, it means you have to pay for 3 months $ 27.9 or for 12 months cost $ 9.99. Now you have to take any of package that suits your need or requirement.
How To Setup & Install Eyezy?
Now you need to install the app by setting on your targeted device. So, don't worry about the eyeZy installation. Here you'll learn the easy way to use this app on your targeted device. This app provides an easy or step-by-step procedure that helps you a lot.
In the initial step, you have to create an account on eyeZy. To create an account, you need to click on the try now button. If you want to see the demo then, simply click on the action button.
Now you have to select a suitable package do subscribe and then wait for the email.
It's time to enter Gmail or receive credential mail.
This credential will use in the dashboard to log in to the account.
Once you Create the web portal, just follow the screen that will be able to install the app on the targeted device.
Pros And Cons Of The Eyezy
Pros
It offers unlimited features for the safety of your loved ones.
No need to root android phones
No need to jailbreak
A perfect location tracker
Cons
Many of its functions didn't work perfectly.
The installation procedure is not easy
EyeZy Review Conclusion
As you read the complete EyeZy review of the parental control app. it's function pricing or set-up method. So, you come to know a lot of features perfectly works or some of not. So, this is enough to know about this app and make a good decision for your loved one's tracking.