COVID'19 – a word that has shaken the world to its core. From east to west, we have all been heavily impacted by this devastating pandemic. It has forced us to succumb and leave our daily routines to be forced into the confinement of our houses. For weeks (for some even months), there has been a nationwide lockdown in almost every country across the globe, in the hope to control the novel coronavirus. Never has there ever been such chaos. The global outbreak is making people anxious as it isolates each and everyone one of us, driving us to quarantine as the fear of being infected grows.
Throughout this disaster, technology has become our closest friend. It is helping us cope up with living through the pandemic while we find refuge in our home. As we are required to be socially distant, technology is connecting us, entertaining us, keeping us updated, etc. In short, it is keeping us sane.
Here are some of the ways how technology is working to help us get through the COVID'19 lockdowns;
Keeping us updated with the news is very important especially during these times, where things are changing constantly. Television, the internet, even radios are great ways to be updated. It's our window to the outside world. From breaking news to government notices to social media posts, technology brings them all to us at the touch of a button.
Working from home that workers are forced into house arrest, businesses are facing a huge blow. Companies, factories, and even schools are shut down. Luckily, for many, technology has come to the rescue. People can be productive and work remotely in the safety of their homes. With online services, you can interact with your team, collaborate, and ensure your business continues as normally as possible.
Online classes all schools have been suspended, many have resort to online classes. Lectures, assignments, tutorials are all given online as so people, especially kids are engaged in learning activities and do not have trouble getting back to the educational environment once everything is normal.
Learning new things, so much free time during the lockdown gives you a great opportunity to learn new things. Fortunately, for us, we live in an era where technology has a lot to offer those who want and grow, without even leaving the comfort of our home. There are many online tutorials, some free of cost and some with nominal fees that teach us from the smallest everyday chores to designing web app, to unlimited topics.
Entertainment The best way to avoid panic is to keep ourselves entertained and technology does just that. As all the theaters, malls, amusement parks, and other entertainment facilities have all shut down, once again technology brings them all at our fingertips. We choose from a variety of movies, music, games, and so much more without even stepping a foot out the door.
Connecting us to our friends and family connection is a necessity. Be it a neighbor next door or our relative across town, COVID'19 has made us all isolate from the world. Social distancing has brought depression among all but thanks to technology we can stay in touch through voice calls, video conferences, connect on social media, share our thoughts, and even make new friends online.
Online Shopping this one is for all the shopaholics out there. You do not have to worry about the shops being shut down; all that you need is just a click away. Many online shops are available that provide services in this time of distress. This gives us an alternative and hygienic solution to fulfill our basic requirements.
Grocery delivery services the benefit of advanced technology is the grocery delivery service. When self-isolating during the pandemic, having adequate food supply is a necessity but this can be quite a challenge when going out is a major risk. Thanks to online grocery services, we can now get our everyday essentials whilst abiding the rules of quarantine. It has never been this simpler!
Online fitness programs we aim to stop the spread of the virus, all gyms and all sorts of group fitness activity centers were closed off. This resort to fitness lovers starting their online courses which they offer to the world. Now you can stay fit and continue your regime at home with the help of online sessions.
Lowering stress and anxiety going through this difficult phase, many feel the hysteria rising. As the days in self-isolation continue, it is very important to keep oneself away from stress, depression, and social anxiety. Many platforms offer meditation and stress management tips. These help people lower their anxiety and embrace the situation more positively.
Final Words
Therefore, you see there are many ways technology is helping people cope up with the current worldwide situation. Despite the inconveniences caused by the lockdowns, technology is normalizing our world one-step at a time.
Rather than panicking, take this opportunity to learn something new. Get to know the services your phones, computers, tabs, TVs have to offer and get the most from them. Be productive and creative.
Self-isolation can get lonely, so keep in touch with your friends/family/co-workers across the globe. Know their stories and help each other get through this time. Communication is the key to keeping your mental health in check.
You have the time so take it and do the things you love but were too busy to them. Spend time with your family, watch your favorite show, play games, start a new hobby, read a book…your opportunities are limitless.
Also, take this time to help those in need. Many people are going through a financial crisis. For these people, going to sleep hungry is more terrifying than catching the novel coronavirus. Donate as much as possible to help them through these difficult times. There are many social aid groups online that you can work with to help the needy.
Do not let COVID'19 tear you apart, take it as a challenge. Together we can fight this and help our world become better than before!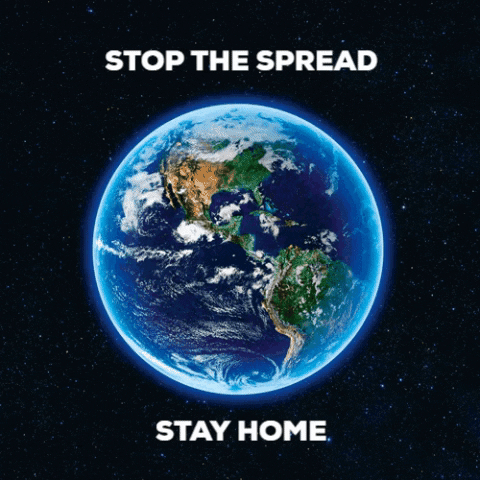 About Me
As a blogger, I feel I must keep my readers well informed. I try to bring you the most current updates about technology and humanity's race to keep up with the changing trends. After working for a company that specializes in logo designing services for as long as I have, technology has become my passion, which I try to share with my fellow tech enthusiasts. I am a tech-savvy person whose hobby is to learn as much as possible about technology. I believe this is what will help humanity cross all boundaries and reach the highest level of greatness.
Author bio
A tech enthusiast with a passion for writing about various tech and app related topics. A writer who loves to research everything that provokes the curiosity of knowing. Bearing the right skills and years-long expertise, she manages to create versatile content every time that impresses the readers and leaves them in awe.