If you have recorded some stunning video with a smartphone, GoPro or camcorder, how to merge multiple videos into one file with little effort? You've come to the right place because this post will show you how to use MiniTool MovieMaker (the free video editor for Windows), Mac app, an online tool to combine videos into one and give you detailed steps to use them.
In the past years, PC users were able to use Windows Movie Maker to do simple video edits. However, after it was officially discontinued, users began to meet frequent errors, for example, the software freezes for no reason, cannot save the edited video, there is no audio in the final video file. It's advisable to consider using other alternative programs to merge videos files.
Part 1. How to Combine Videos into One with the free MiniTool Movie Maker program
If you do not have the built-in Windows Movie Maker on your computer bit want to join video clips together to make one video with minimal effort, MiniTool Movie Maker can help.
This is a free, powerful video editing software that supports 4K UHD video, large videos, and common video files in .mkv, .mp4, .3gp, .mov, .avi, .flv, .wmv.formats. It will empower you to level up your videos by adding different video transitions, filters, visual effects, animated text, titles, animations, and music etc. If you do not have a good skills of video editing and want to complete the video in a short time, you will find the software's free music library and video templates are very helpful for novice users because these features effectively cut the video creating time. Follow these instructions as follows and you can merge multiple videos on Windows 10 computers.
1.1. Launch MiniTool Movie Maker on your Windows Computer. (Mac OS is not supported)
Now see some ready video templates on the main UI. These templates are very useful for novice users. Simply choose one video template you need, import your multimedia files and you can begin to to create a cool video.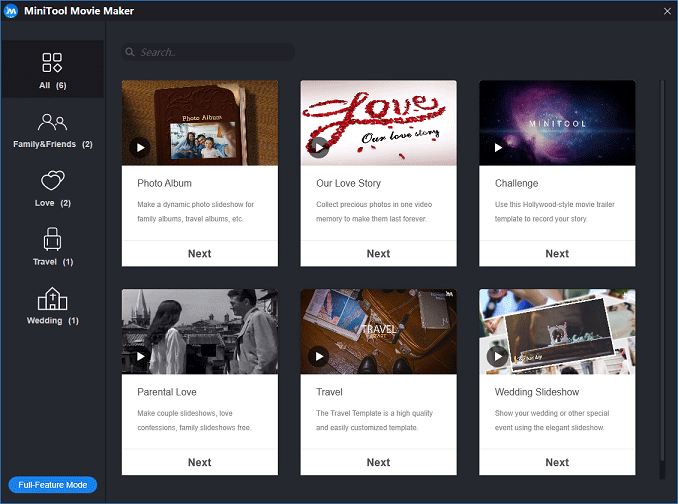 1.2. Please import files to the MiniTool software now.
Click the Import Media Files, you canto add some of your video files and pictures that are stored on your PC, GoPro, drones or other mobile devices.
1.3. Drag some of your multimedia files to the timeline.
You can see all the files are listed in the Media library after you import them to the software. Now you need to select some files and drag them to the timeline.
Optional step – You can arrange the order of the selected video files on the timeline to get the result you need.
1.4. Apply the video transitions to make your video look professional.
To make your video looks natural after you combine many shots into one, you can use MiniTool MovieMakder to add different transitions at the right places and last them for a few seconds. Besides, you can preview the content when editing. This only requires 2 simple steps:Select the video transition that you like and preview it→ Drag every video transition to the correct place.
1.5. Other steps for editing videos. (These steps are optional, not mandatory.)
In order to make your video look more polished, you can use MiniTool MovieMaker to do other things for you – add an audio recording, inspring background music, use animation effect, add customized text to the video, apply video fileters and more. Use some imagination and creativity to make your videos meet the eye.
1.6. Trim or split video clips.
On one hand, MiniTool Movie Maker can assist you in splitting a large video into small files to get many parts of the footage with simple click. On the other hand, it can also allow you to remove unwanted footage either from the beginning or from the end. This process is as simple as cropping an image using the photo editor.
1.7. Now is the time to save the final video.
Click the Export button, choose one video format that meets your requirement, change the file name so you can find it easier, finally, click the Export button. Everything is done.
Part 2. Some Other Video Combiners and Editors You Might Want to Try
If you only need to perform some simple video editing tasks, like combining vieos on Mac, iMovie is worth trying. Here is how to combine shots into one using iMovie.
First of all Go to "File"→ click the "Import" button→ and choose "Movies" button.
And then, find and choose some video files you need, and click "Import" to drag those files from the media section to the iMovie timeline.
To save the combined videos, please go to "File" → choose "Share" → and then select "File".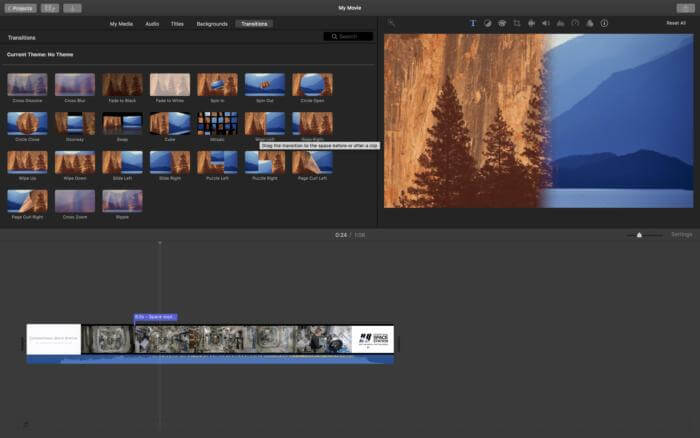 Part 3. How to Join / Merge Videos with VLC?
Not only can VLC media player play almost any media format, but it can also join multiple videos into one file. The operation is not difficult.
After launching VLC media player, hit the "Media" menu, afterward, select "Open Multiple Files" from the drop-down. (The image below shows how to do.)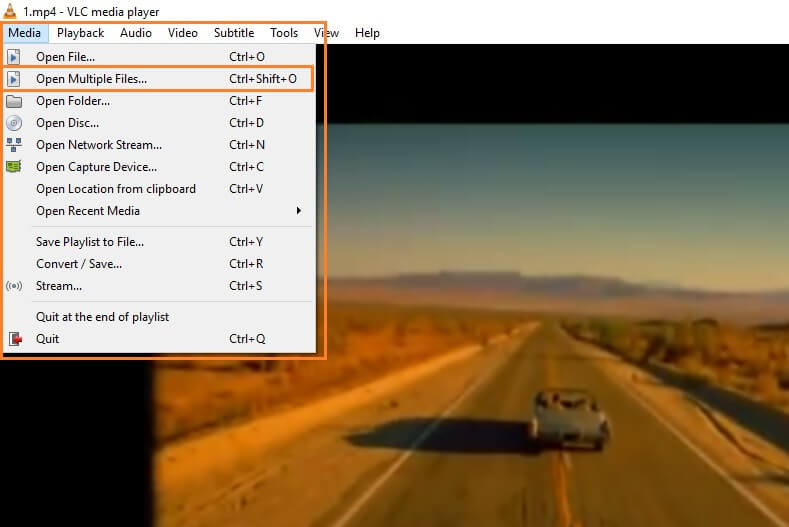 Next, go the "File" tab and then click the "Add" button to add some files which you want to merge. Then you can hit the "Play" button and click on the "Convert"button from the drop-down.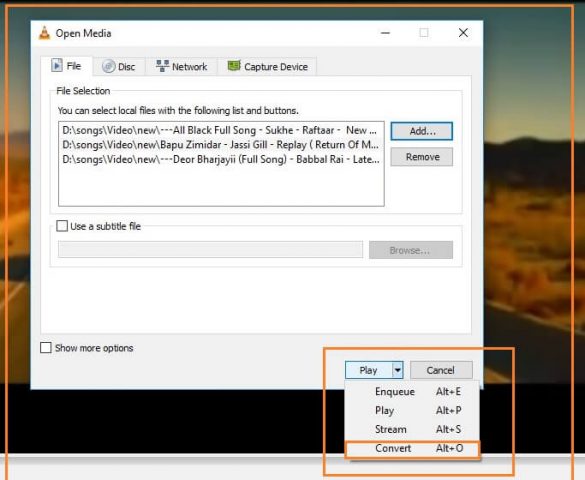 Finally, check everything is OK, set the location to save your video files.
Part 4. How Can I Merge Videos with Online Tools?
YouTube video editor was a free and simple online tool that provided basic editing features to users. However, it is no longer working as of September 20, 2017.
If you want to combine multiple videos into one online, you can head to mergevideo.online. Click "Choose Files" in the middle of the page to select some video files that you want to combine, then please click the "Open" button, choose one video format for the final video, at last click "Merge". This online tool will begin to merge the videos into one file.