Being a human, we all need a place to stay, food to eat and clothing to wear. Similarly, if you have a website, it needs a place to stay on the internet and resources to be available to your visitors. Thus, in this aspect, we are going to discuss the MilesWeb review.
It is quite hard to find the right web host for your website. There are lots of factors that you need to think upon. Even if you have gone through several best web hosting providers, you might still be stuck with some question marks that which kind of hosting is the best for you.
Don't worry we will give you a primer on what is web hosting and the type of web hosting that is suitable for your new website. After that, we will review one of the best and independent webs hosting company of India.
Ready? Then let's get started.
Clearing the Basics of What is Web Hosting
First, let's clear up with what is web hosting.
Web hosting is quite simple. When your visitors view your website in a browser, it is possible because the browser downloads a number of files filled with code and converts the markup into something you can actually see.
It is similar to your computer, wherein these files are stored on a drive so that they are accessible to you. But in web hosting, instead if your hard drive, they are on some other computer called as a server.
Remember servers are highly powerful than your computers or laptops and therefore, can manage several people accessing the website at the same time. But a server is built of similar components as the laptop such as a CPU, memory as well as other components. Moreover, it gas an operating system too, actually both Linux and Windows but most probably it is Linux.
The server's owner rents it out to the person that owns the website and offers some other services such as support, server management, malware scanning, backups and so on. This complete process of offering this infrastructure for others is called web hosting. The person who offers it is called a hosting provider.
Clear with everything? Cool, then let's dive into what is shared hosting and why startups consider it.
Shared Hosting in Brief
Shared hosting is similar to its name. When you buy a shared hosting plan, your site is hosted on the same server as a bunch of other websites.
How many websites are there in a bunch? It completely depends on your setup and hosting provider you choose. However, it's quite common for a site to share the server with hundreds and even thousands of others.
Do you eat pizzas? Of course, all love eating them. When you buy a pizza, how does it come? It comes into equally divided pieces right? It means everyone sharing the pizza gets equal portions of it to eat. This is what a shared server is.
Pros
If the hosting provider hosts several hundred or thousand websites all on one server, it enables them to distribute the operating cost among many users.
Therefore, shared hosting is the most affordable option. You can have it for as cheap as $2/month with the average cost in the $5-$10/month range. You can say that it is a great for people with limited funds and those just starting out.
Apart from that, with a shared hosting account, you get the setup ready from the web host. You only need to configure some things so you can focus completely on building your website.
Time to review the best web host of India.
MilesWeb Review
An independent web hosting company, MilesWeb was started in 2012. The company has been appreciated for quality services and support. They have a customer base of more than 20,000 customers. All types of web hosting solutions can be seen with them such as shared, reseller, dedicated, VPS, cloud, and best WordPress hosting. You can take advantage of their expert customer service that can be opted any anytime via live chat and email. Their 30-day money-back guarantee helps you to get back your refund if it claimed with the first 30 days of a service purchase. Their best-in-class data center and powerful servers offer you an uptime of 99.95%.
Shared Hosting Plans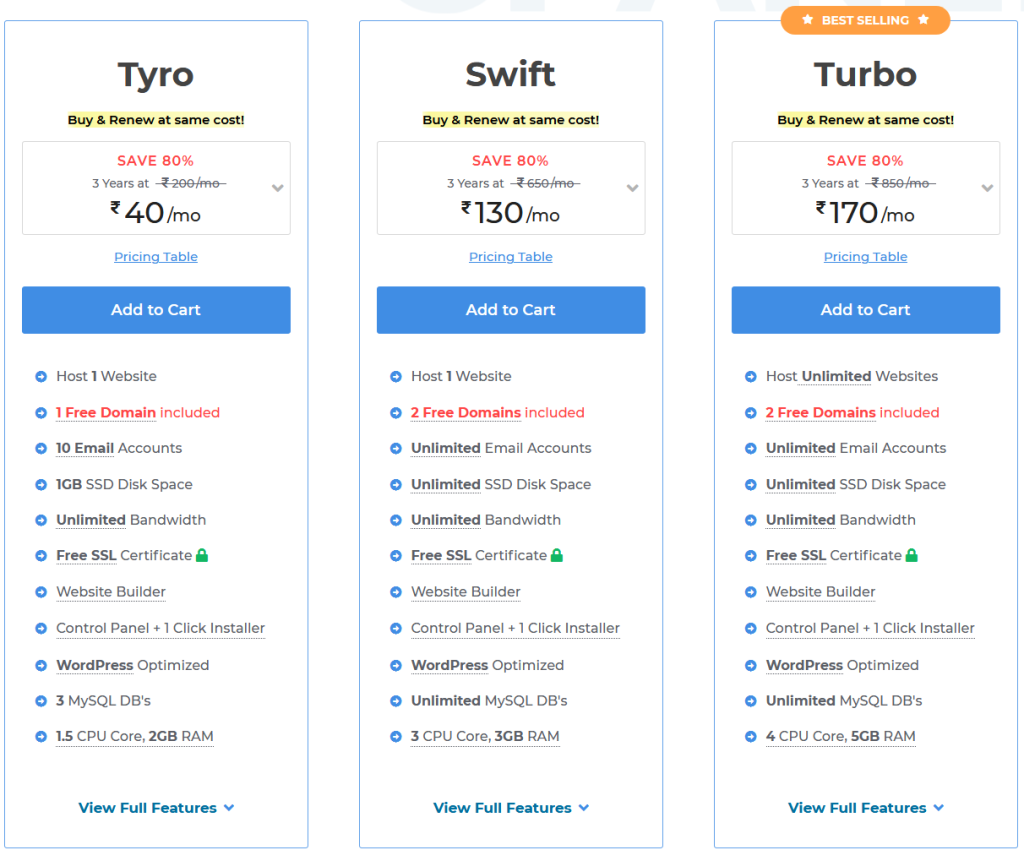 Features
Register Your Free Domain
Free Website Migration
Free SSL Certificate
Free Site Builder
SSD Storage
Secure Email Accounts
1-Click Installer
Instant Account Setup
Latest PHP and MySQL
Datacenter Choice
Malware Scan and Removal
Customer Reviews

The Verdict
MilesWeb is a truly independent web hosting provider of India that offers high performance with quality services. Their shared hosting plans are the best for startups as they are affordable and offer complete features for a new website.
About Post Author