With the second wave of digitization hitting us, it is only fair for us to talk about how brands can develop eCommerce websites that are functionally and visually appealing.
eCommerce developers/eCommerce development companies out there design eCommerce websites with an intention to not just cater to the consumers but, to create design strategies that allow the brand to communicate better with their consumer community and create a consumer experience aimed at towards their needs.
If you are a brand that's looking to develop an eCommerce website, here's a few pointers that could help:
1. Brand Design Language:
Whilst building a brand, we recommend you to design a unique color signature. The color signature is used to create a visual impression of your brand amongst the consumers' minds.
eCommerce developers/eCommerce development companies work with the idea to trigger your brand's name when a consumer finds a similar color signature. To enhance the consumer experience and brand recognition further, we'd recommend for you to subtly use the color signature on your digital space.
For instance, if we consider ikea, the iconic yellow and blue color in their logo is used subtly across their ui/ux design and this allows the consumer to remember the brand in a distinct manner and the subtle use of colors allows the brand to create visually appealing user interface without losing out on indirect brand.
And, with brands like Flipkart, their color scheme is heavily based on their logos colors and to increase the brand recall value further, these brands use the same color scheme across their omni-channel presence to increase the consumer experience and build a seamless connect amongst the consumers and the community.
2. Consumer-focused Design:
Whilst developing an eCommerce website, think of yourself as a consumer. The idea is to use the mindset of a consumer to simulate a tailored experience.
Think of it this way, if you were a consumer and would go to the supermarket, what would you buy and implement the design tactics based on it.
For instance, BigBasket as an eCommerce website brand works across India to supply groceries and the eCommerce developer/eCommerce website development team has developed the website in a manner where it displays the products that a common consumer purchases the most and it gives the consumers visiting the website a reminder about adding the products that match from their list to the cart. To top it up, BigBasket further provides discounts on the products displayed. This ends up providing a comfortable consumer experience and builds a better brand recall value.
3. Minimal design:
In this context, the idea of minimalism is to provide every necessary function for the consumer to shop comfortably. And, in the case of eCommerce website, eCommerce developers/eCommerce website development companies around the world have created minimal eCommerce website design where the consumers are greeted with everything they are required to shop comfortably.
For instance, the minimal dynamic header used in Flipkart shows the search bar for the consumers to search the products, profile information to keep a track of orders and the cart to keep a track of products in it. Following it are the product categories that properly segregate products based on categories for the consumers to shop. It ends up building a comfortable consumer experience and increases Flipkart's brand recall value among consumers.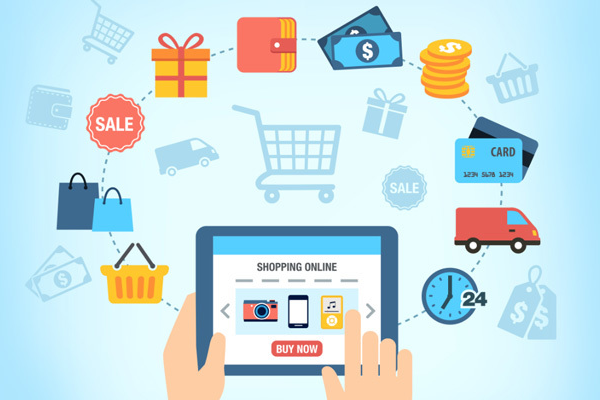 4. Comfort oriented filter:
With thousands of products being sold on an eCommerce website, it is difficult for a consumer to search through all the products and find the required product without the use of a search bar and filter options.
But, to develop it further, eCommerce website developers/ development companies have developed a minor yet vastly impactful feature that allows the consumers to not just search and filter the products based on the brand, price, reviews, and rating. But, it allows the consumers to filter products based on availability and delivery date flexibility.
The best example for this instance would be how Amazon used the means of Amazon Prime to create a search filter that would allow the consumers to filter products based on the availability and delivery dates.
Currently, It uses a filter that displays products based on the next day delivery and two day delivery system and it works flawlessly to provide a better consumer experience.

5. Accurate product interaction:
Remember how we spoke about thousands of products in the last paragraph?
Well, as Uncle Ben of eCommerce says,
"With great products come accurate descriptions and pictures."
Whilst displaying products, eCommerce developers/eCommerce website development teams of brands should make sure that every necessary information regarding the product (Both visual and descriptive ) are provided with a section for consumers to share their opinions and ask their questions.
For instance, if a consumer on your eCommerce platform is looking to purchase a TV. While searching, they tend to come across different options from different brands. And, at some point, it becomes confusing for the consumer to decide.
This usually ends up with the consumer opting to shop offline. To avoid this, we'd recommend you to focus on the following whilst developing a product page:
a. High Definition images:
A picture is better than the words and a picture of the product with all the possible angles would make it easier for the consumer to understand the visual description of the product.
b. Product description:
Yes, we know how we spoke about the picture is better than the words. But, in some cases, words matter too. And, in the eCommerce sector, they most certainly do.
Product descriptions allow the consumers to understand the specifics of the product such as the performance and specifications which cannot be depicted in the form of a picture.
c. Reviews and Q/A:
Now, whilst purchasing, a consumer looks for reviews of a product as purchasing any product is a form of investment for the consumer. And, that's where reviews and Q/A come into play. They allow the consumers to connect to each other and the brand/seller.
6. Hyper-Personalized Product recommendations:
Now that the consumer has purchased a television from your eCommerce platform, what more could you do to increase sales?
Well, this sparked a micro-eureka moment among eCommerce developers/ eCommerce website development companies wherein they came up with their own algorithms to predict products based on the consumers' personal shopping experience and the collective product purchase and combined experience.
Meaning, now that the consumer purchased a television, the recommended products module would display the most purchased accessories such as remote case, Streaming dongle, or HDMI cables alongside it and provide a discount on the combined price of purchasing the television with the accessories. This triggers a sense of consumer respect and enhanced customer experience amongst the consumers.
7. Aesthetic CTA:
Now, let's move on from talking about that consumer who purchased a television with accessories on discount. Let's talk about how an eCommerce brand can generate sales via providing a visually impressive CTA.
Aesthetic CTA are designed in a manner to generate maximum conversions. The CTAs are designed to trigger curiosity amongst the consumers.
For instance, Amazon creates consumer centric CTA highlighting the necessary information of a product and its sales. This comes from the informed decision making habits of Amazon.
Their CTA's talk about the product, its usability and the streamlined purchase experience.
8. Streamlined purchase experience:
Whilst an eCommerce brand works to sell a consumer experience around the products, the most important part of the process is dependent on the purchase experience.
With modern eCommerce brands, it is easy to purchase via any stable payment method such as DebitCard,CreditCard, Payment Wallet and Cash/Card on delivery. It is quite important for a brand to understand the need to streamline the purchase experience. It plays a huge role in creating a better consumer experience.
For instance, Considering a consumer who was impacted by the Aesthetic CTA and decided to purchase the product. Now that, he/she is on the purchase page, if they get greeted by a purchase page which either doesn't provide all the widely accepted payment methods or is unresponsive/laggy, the consumer would decide to purchase it from another eCommerce brand where he/she is comfortable with the purchase experience.
Whilst streamlining the purchase experience, remember that consumers are only comfortable with payments if they find the gateway trustworthy in terms of responsiveness and provide all the widely accepted payment methods.
9. Responsive design:
Speaking of responsiveness, let's not forget that the world is adapting to communicate via the smallest of devices and for your brand to sustain, it must work just as good and must look just as visually appealing and functional as a desktop' version on a smartwatch.
For instance, if you are an eCommerce website brand and your consumer decides to shop via his/her smartphone, eCommerce developer/eCommerce website development team working on your brand must make sure that the smartphone app is just as responsive and user friendly as the desktop website.
In 2020, Smartphones and wearable app designs can be used to convert and generate sales.