Today we deal with the review of the XNSPY mobile phone tracker app. I think you're looking for your kid's safety or you're looking for better performance of your business by spying on employees. The XNSPY is the solution for all of you. The XNSPY review is in detail including its features, compatibility, prices, products, and many more.
Do you know why are we going to review about best spy products in the business? Are you looking forward to spying on a cellphone device? You may think of spying apps, and you do believe that these are all about intrusive and illicit surveillance. However, tracking through monitoring software these days is in trend, not only to safeguard your business but to set parental control on your teen's digital devices, like cellphones and tablet devices.
People are scared of those applications that usually steal the data of the users and then sell it to third parties. So, spying on digital phones for the sake of business safety and parental control is legal until you have the consent of the target device user.
Short XNSPY Review
XNSPY is one of the top-line spy apps these days. Without the shadow of a doubt, it is a complete cellphone monitoring and tracking solution. It is beneficial for parents and enables them to set parental control on digital phones connected to cyberspace. It is also best for smartphone tracking in real-time. It is the most reliable and most advanced surveillance app to date. The application has one innovative and powerful feature that is responsible for providing you with instant results. It has multiple packages in your range and accommodates you with payment methods. It discourages intrusive and illicit surveillance until you have got the consent or the target device belongs to you for sure.
It works without making hectic efforts on android and iOS devices. The application has more than 40+ features. The best parental and employee monitoring app has had a vital role over the years to safeguard your kids and your business. You can use its services 24/7.
Price and Packages Detail
XNSPY is not a free application that you can search on the web and get nothing in response. It is one of the best service providers, and you have to have a subscription. You can see the following pricing plans for XNSPY.
| | |
| --- | --- |
| XNSPY Basic Plan | XNSPY Premium Edition |
| Month – $29.99 | Month – $35.99 |
| Quarter – $41.99 | Quarter – $59.99 |
| Annual – $59.99 | Annual – $89.99 |
Prices includes with 40% off
Features of XNSPY Cellphone Spy App
XNSPY parental and business spy app has dozens of features that work in a stealth mode. You have to use the features following your needs, and we have categorized cellphone spy software features into two categories.
XNSPY Stealth Mode Features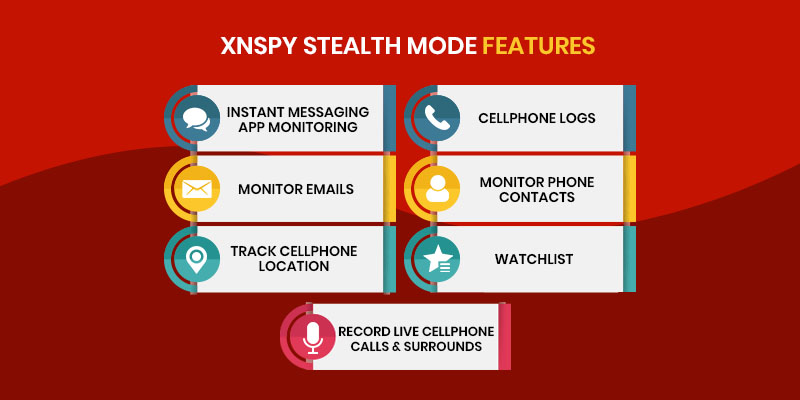 Record live cellphone calls & surrounds
XNSPY call recording and surround recording feature is epic, and you can use it to record live cellphone calls and surroundings in real-time. You can listen to the live-recorded data and surroundings via its online web control panel. The surround recording feature can control the target smartphone MIC and record voice and voice conversation in surroundings for sure.
Cellphone logs
Users can monitor the top 5 callers and incoming and outgoing call logs alongside the date, time, and name of the caller and many more.
Instant messaging app monitoring
Social messaging apps like Facebook, WhatsApp, Snapchat, Viber, Kik, and many more are on every device you name it. Now you can monitor the instant messaging logs by using XNSPY on the target cellphone device of your child and employees. You can get messaging logs, media, voice logs, and many more.
Track emails of target device
You can spy on emails sent and received on cellphone devices to get rid of the business and parental concerns using the XNSPY email spying feature.
Monitor Phone Contacts
The cellphone tracking app can monitor and track saved contacts on the target android or iOS device to the fullest.
Track cellphone location
You can use XNSPY on the cellphone to track the live GPS location of the target cellphone device. However, installing a cellphone spy app for sure has physical access on the phone.
You can remotely navigate the GPS location of a phone. You can watch the location of the target device virtually on the Google MAP.
Watchlist
Users can make adjustments and set alerts by using keywords, like contact and location. It enables you to spy target device activity on the phone rather than getting access back and forth on phone logs using the XNSPY web control panel.
This is an XNSPY features review that discusses all of its features works in a steal mode and never let the target device user know that you are spying on the cellphone device.
XNSPY features suitable for parental control only
The following features enable parents to perform parental spying on kids' digital phones to make sure safety.
Block app
You can use the name of the inappropriate application in the dashboard filters, and kids cannot have access it anymore on the phone.
Lock phone remotely via XNSPY dashboard
You can use the web control panel of the cellphone surveillance apps, and you can unlock or crack the passcode generated by the app. You can use it on the phone and unlock the phone whenever you want to.
Remote wiped out data.
You can remotely delete the data if your child has lost his/her phone for sure.
XNSPY Reliable products
The best cellphone spy app is offering two products for android phones, and the second one is for iOS phones. Let's discuss these two products.
Android spy app
You can use cellphone tracking software on android cellphone devices, and you can spy on every activity on the cellphones running with the latest OS android OS version up to 9. It has plenty of monitoring and tracking features, like call recording, social media monitoring, call logs, GPS location, block apps, and unlocking the phone. There are some features that you can use without root and after rooting the android phone. You can install it on the target cellphone device running with the compatible android OS version with XNSPY.
IPhone spy app non-jailbreak solution
iPhone monitoring app non-jailbreak solution is a kind of application that does not require installation. You can get its subscription and get the credentials, and further use it on XNSPY online dashboard. Now make sure you have the iCloud credentials of the target device that have to use on the dashboard. You can monitor and tracklogs of social media monitoring, Gps location, and many more.
XNSPY Dashboard
Let's review the dashboard of the XNSPY. Once you go to the live demo from the official website XNSPY.
Click on the Dashboard to explore more.
Let's come back to the Live Demo for Settings.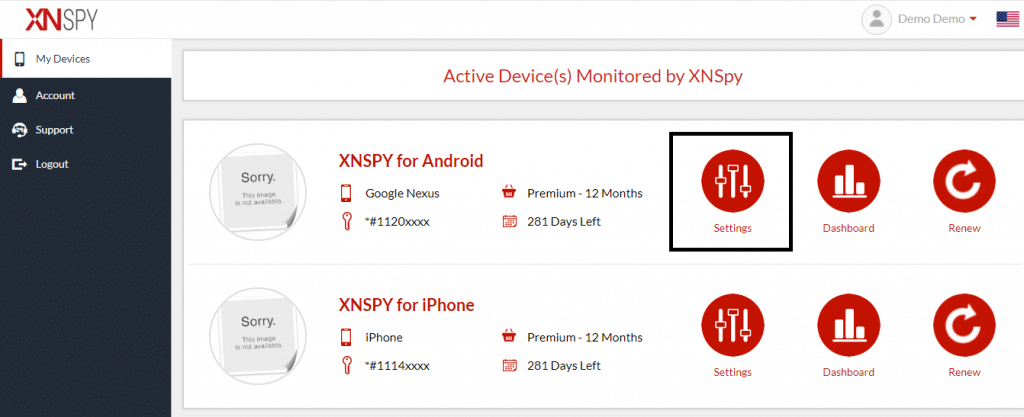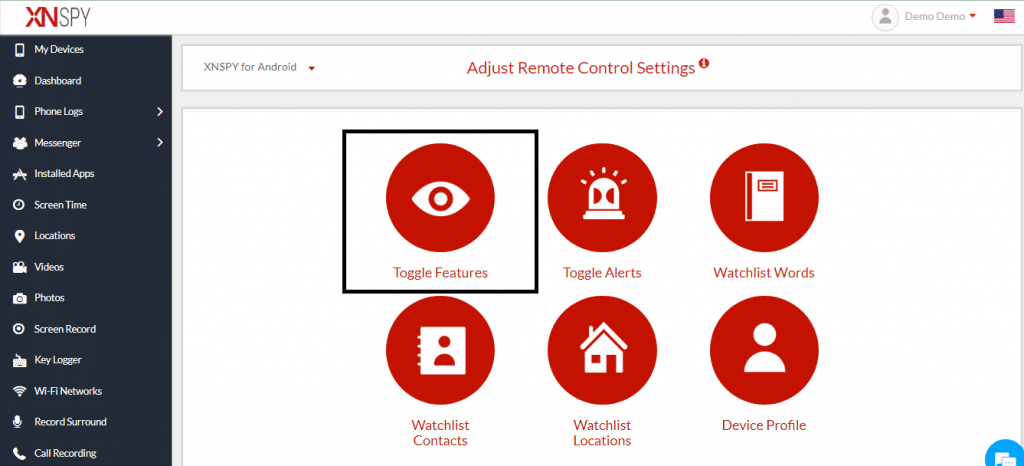 Turn On or Off the features which you want.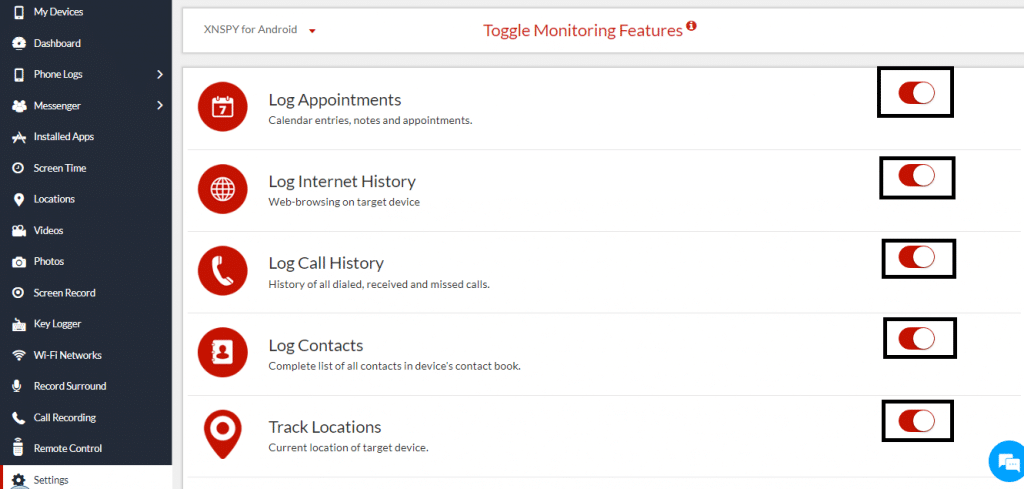 Installation Guide of XNSPY
The mobile spy app has two products, like an Android monitoring app and an iPhone spying software non-jailbreak solution.
How to install XNSPY on Android devices?
How to install XNSPY on iPhone & iPad?
Are you going to install XNSPY on the android cellphone device? You have to use it on your child or employee and make sure about the compatibility? Moreover, get physical access on the phone after you have the subscription and credentials. Now start the installation and perform the configuration successfully and activate it on the target device. Now you can use the passcode and ID of the dashboard and activate the features mentioned above to get the job done.
iPhone devices usually require a jailbreak process, but XNSPY, you can use iPhone spy software non-jailbreak solution. Now get the subscription and receive credentials. You need to have the iCloud credentials of the device. You have to use it on the XNSPY web portal. Get access to the XNSPY dashboard and use credentials that you have received to visit its dashboard and use iCloud credentials to monitor and spy the data on the target iPhone device.
Pros & Cons you need to know
Before subscribing to any cell phone spy application, you should know about its pros and cons to make your final decision. Let's have look at the following pros and cons of XNSPY.
Pros:
It is one of the leading smartphone tracking software with online and offline tracking features
It is complete spy solution for parents and business owners
The application has rooted and non-rooted features
It is non-intrusive and discrete phone monitoring app
It has more than 40 traditional and exclusive features
Application is well built and easy to install on target device
It can control target device activity remotely
Cons:
It is used to offer such features that are impossible to perform on android & iOs devices
It used to claim spying on jailbreak and non-jailbreak devices with same features
Compatibility:
It claims its compatibility with millions of devices and networks of the world. It supports android and iOS latest OS version devices. It means that you can use it on any mobile device running with iOS and Android OS to the fullest.
Who should have XNSPY?
XNSPY is for those struggling to set parental control on phones. And for those who want to make sure the business devices security. It means parents can perform digital parenting on teens' cellphone devices, and employers can keep an eye on the phones provided to employees. XNSPY is the best spy application that empowers you to safeguard your teens on the web and protect your business secrets on business-owned phones.
Conclusion:
In this XNSPY review, we have discussed the nature of the application, features for parenting and employee monitoring, and how you can use it on android and iPhones. We have discussed price packages, the installation process, and compatibility. Now you can get to know whether you have it or not. For more information, you can keep reading our blogs on the best spy apps for cellphones.